Hunting Violations Lawyer
Bird Hunting, Deer Hunting, Big Game Hunting Violations
If you're like most hunters, you know the rules and you strive to do things right. But out in the field, real life circumstances can sometimes make that difficult and can lead to several different types of hunting violations.
An injured animal travels out of or onto federal or private lands resulting in unlawful taking or trespass
An injured or killed animal can't be found in time to properly tag or dress it, resulting in waste of wildlife
A protected bird or animal is shot accidentally
Sometimes it's unclear what the rules actually are. That was the situation in a high-profile case that Texas hunting violations lawyer Chad Lee handled involving the shooting of American bison. After a careful review of the law, our client was exonerated of wrongdoing and the law was changed.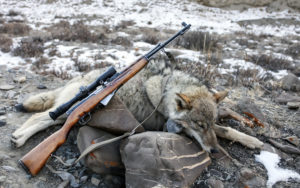 From time to time wildlife laws, such as hunting limits, are violated from ignorance (or by intent). Regardless of the situation, if you are facing citations or criminal charges, you have a right to a strong defense. If you have run afoul of federal bird hunting, deer hunting or big game hunting laws anywhere in the U.S., contact defense attorney Chad Lee, 817-678-6771.
Mr. Lee is a former prosecuting attorney turned defense lawyer, and a hunter himself. He is a member of Safari Club International and Operation Orphans in Texas. He has been repeatedly voted a Top Criminal Defense Attorney by Fort Worth magazine. He defends hunters, hunting guides, and landowners facing criminal charges for wildlife violations across the U.S.
Protect Your Hunting Privileges from Points and Criminal Charges
In Texas, hunting violations typically involve hunting for mourning doves, elk, pronghorn antelope, white-tailed deer and the American alligator. The most common violations are:
Hunting/taking possession without a valid license, stamp or permit,
Possession of wildlife in excess of limits,
Hunting a game animal out of season, and
Trespass.
Mr. Lee also defends clients against less common charges and violations, such as:
Failure to produce a hunting education card or hunting license
Untagged or improperly tagged deer
Hunting with the aid of bait
Failure to retrieve migratory game bird
Illegal use of a motor vehicle or electronic devices while hunting
Hunting migratory game bird with unplugged shotgun
Hunting with other than non-toxic shot
Violation of the Interstate Wildlife Compact
And more…
Endangered Species
If you've killed or tampered with an endangered species – in Texas that could be a crane, whooping crane, eagle, hawk, bison or alligator – the consequences could get expensive. You could be ordered to pay restitution. Fees and restitution costs can run into the tens of thousands of dollars, and you can be assessed license suspension points.
A Federal Wildlife Violations Lawyer Can Help Your Case
As with other kinds of criminal cases, an experienced defense lawyer can have a positive impact on the outcome of game hunting criminal charges. Our attorney gathers testimony, documentation, and evidence to show the court your side of the story. That can result in getting charges downgraded or dismissed, getting fines and restitution reduced, and avoiding license suspension points so that you can hunt again another day.
At Lee and Wood, we do everything we can to help you through this difficult time. Contact our Fort Worth law office for a free, confidential consultation: 817-678-6771. Or complete our online contact form to schedule an appointment.